Turkey suffered a severe blow on February 6th when a series of earthquakes greatly impacted the country. In particular, the tourism sector, which had seen significant growth in recent years, experienced major repercussions. However, despite the difficulties, Turkey is proving to have great adaptability and resilience.
During the pandemic, Turkey played a leading role in the map of open tourist destinations. Thanks to a different policy than that of Europe, Turkish beaches became the favorites for many tourists from Northern Europe and Northern Asia. However, the earthquake was a heavy blow to Turkish tourism, with significant repercussions on the economy.
TOURISM IN TURKEY: THE NUMBERS
Despite this, statistical data tells a new story of recovery for the country. About three months after the event, tourist demand for Turkey seems to have returned in full force. Analyzing data on international flight searches, which show tourists' travel intentions, it is clear that the country experienced a collapse in demand following the event. Within two days, flight searches for Turkey plummeted by 42%. However, just a few days later, we see that demand began to grow again.
From February 11th to 20th, searches for Turkey grew at an average daily rate of +2.3%. By April, demand volume returned to pre-earthquake levels around April 12th, recovering the entire gap in just 65 days. It is incredible how quickly demand has rebounded and how confident tourists are.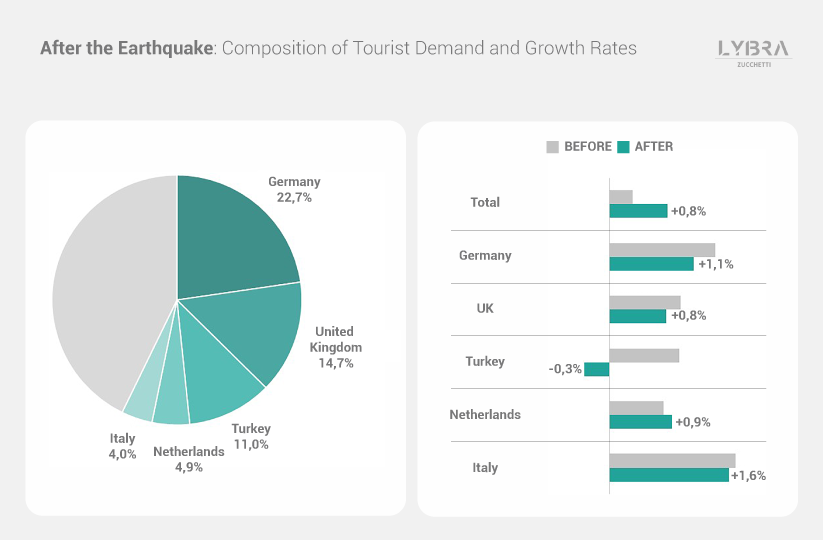 NATIONALITIES TRAVELING TO TURKEY: GERMANS IN THE FRONT ROW
Germans, a reference market for incoming Turkish tourism, have not disappointed: even after the event, they remain in first place with a 22.7% share of the total. Following are the British (14.7%), the domestic market (11.0%), the Dutch (4.9%), and the Italians (4.0%). Not all markets, however, have fully recovered their performance. Among the top five, only tourist demand from the Netherlands is growing at a rate higher than that of the pre-earthquake period.
In conclusion, the recovery of Turkish tourist demand after the earthquake is a sign of hope for the country and the tourism sector. Despite the difficulties, Turkey is proving to have great adaptability and resilience, and it can rely on an international tourism audience still very interested in discovering the beauty of this country. We hope this positive trend continues and that the country continues to enjoy its well-deserved tourist success.