The events of the last few weeks have upset our lives and forced us to reckon, again, with the fear of travelling. Europe and Europeans are feeling the war at home and the tourism sector, which was about to recover after the long pandemic, has received another shock.
Everyone is trying to understand what impact this war will have (especially on the upcoming summer season), but it is not obvious to expect a general decrease in demand: there are many variables at stake and to better understand the situation we should analyze many things, such as the sensitivity of demand, the different reactions between markets; but also the booking window and near-term trips. 
TRAVEL DEMAND IN TURMOIL
The trend of travel demand for Spain has been literally broken by events: as you can see from the graph above, flight searches were growing steadily since the beginning of the year but military escalation caused a sharp slowdown. 
In fact, the performance of recent months was excellent: after a difficult winter, demand had regained confidence and, despite the explosion of the Omicron Variant, travel demand recorded a positive trend until the end of February. An average of one million searches were made to Spanish airports each day; these searches increased at an average daily rate of 3.1%. 
With the invasion of Ukraine, flight searches collapsed: demand reacted with the fear of travelling and, within a couple of days, decreased by 65%. The whole of Europe has been hit by this wave of uncertainty and, in one way or another, there have been sharp decreases in all the countries of the Union. It is still too early to see if we detect a momentary shock or a disruption that will suppress the travel market. 
What we can say with certainty, is that the demand for travel to Spain (as well as to other countries) has gone from a phase of growth to one of total chaos: travellers, especially European ones, are very sensitive to the events of the war and their demand for flights is strongly conditioned by war events. After two weeks of fighting, the market is still very turbulent.
CONSTANT BOOKING WINDOW
When tourism suffers an exogenous shock, tourists react by trying to postpone travel. It is a fairly usual reaction, which also emerged during Covid, but not this time, at least not yet. The demand for flights to Spain has decreased and is still unstable, but there has been no renunciation of spring travel in favour of future dates. The average booking window for travel has remained broadly stable and flight searches for March, April and May are three times higher than for the summer months. There has been, indeed, a slight increase in demand for the Holy Week.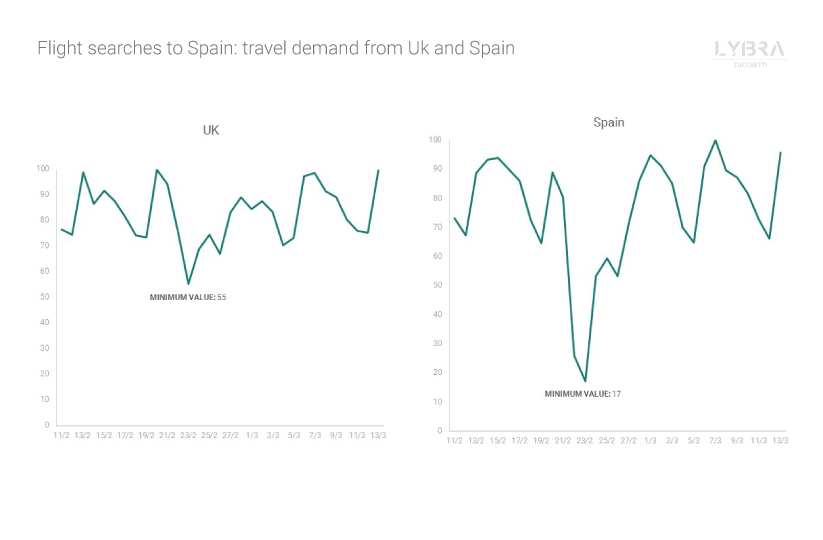 DIFFERENT REACTIONS
The explosion of the crisis in Ukraine has shocked European citizens and turned off their desire to travel, but not everyone has reacted in the same way. Undoubtedly, Eastern European markets (including Russia) collapsed but their market share in travel intentions was already very low even before the conflict. The Spanish travel market, on the other hand, depends substantially on ten markets (all European) that represent 76% of flight demand and their response to the crisis is very important. Among these, the domestic market is in second place after the United Kingdom; followed by Italy, Germany, the Netherlands, France, Ireland, Poland, Belgium and Portugal. 
In some of these markets, the reaction has been negative: not only have travellers stopped looking for flights to Spain but demand has been strongly influenced by war events, so much so that the search trend has not yet recovered after the collapse of February 22. Tourists from Belgium, for example, decreased the demand for flights by 20%, after a temporary collapse of 85%. So too with tourists from the Netherlands: demand for flights is still 19% lower than in the pre-crisis period and has fallen by 86% in the previous days. This group also includes German tourists: -17% of searches compared to a collapse of 86%.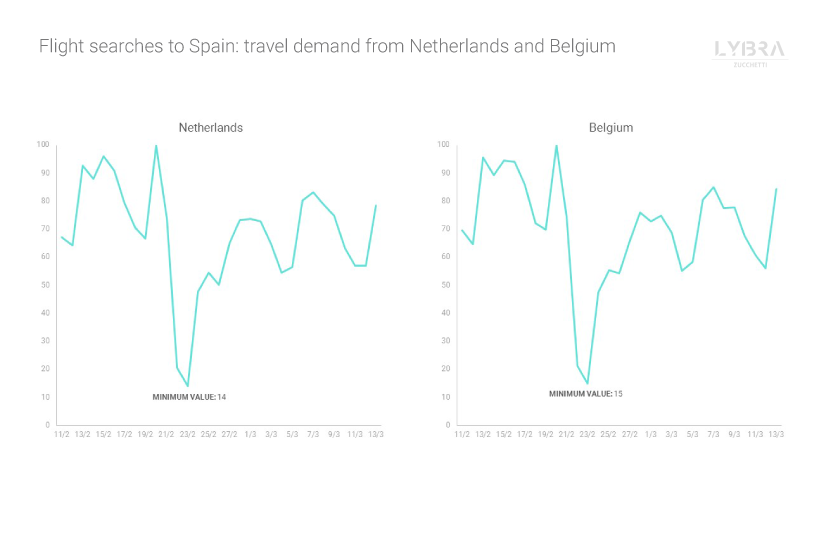 About Destination
Destination is a market intelligence project created by Lybra – developers of the most complete, machine learning, data-centric Revenue Management System (RMS) available on the market – to share real-time, region-specific statistics, information and trends in the world of tourism.
Every day, Lybra analyzes millions of datasets – data collected from thousands of hotels' PMS and flight search data from a leading metasearch booking engine – to help hoteliers "look ahead to better understand the present;" in other words, Lybra helps hoteliers understand the upcoming demand for their destination and gives them the revenue management tools and actionable insights necessary, to maximize bookings and revenue.
The aim of Destination is to give hoteliers and DMOs a more expansive view of tourism news and trends in different regions around the world. Destination produces weekly Travel Demand Reports, which share tourism developments for a specific country/region and analyze how the region's travel news has impacted tourist demand. Follow Destination on LinkedIn to gain access to the upcoming Travel Demand Reports, which are published every Tuesday.