Every day, millions of tourists do searches on hotel booking engines to plan for their next trip; these potential travelers search for information to help them choose a destination to visit, to find the perfect hotel, determine their preferred travel dates and how many days their trip will last. These searches leave "cookie crumbs" of online data which make it possible for us to learn a great deal about searchers' travel intentions and the demand pressure for specific tourist destinations.
This week, we have chosen to analyse the market trends of three well-known Italian destinations (Riviera Romagnola, Lake Garda and the Veneto Coast), which are the destinations with the highest number of official tourist arrivals in the pre-COVID period.
RIVIERA ROMAGNOLA. In the last thirty days (June 18 – July 18), 276,500 beds have been searched for in the various lodging accommodation in the Riviera Romagnola, meaning that (approximately) 9,200 tourists are searching for beds in this area each day, growing at an average daily rate of 9,8%.
The searches are predominantly domestic, with Italians representing 86% of total searches for stays in this region; some may think this stat is a negative sign but, in actuality, in the pre-COVID period, foreigners only accounted for 23% of hotel accommodation in this region, meaning that the composition of the market is consistent with the past (when regarded as a total number vs. the make-up of domestic/international travel). The main nationalities of origin for foreign users are Switzerland (27.8%), Germany (25.5%) and France (12%). The most active long-haul market is the United States, with a share of 7%.
The most popular destinations are Rimini (33.7%), Riccione (26.2%) and Cervia (14.7%), which alights with the fact that these cities are the ones with the highest number of lodging establishments; however, if we consider the demand pressure index (which weights searches according to the number of facilities in an area), the destinations most desired by tourists are Cesenatico (100), Cervia (94), Riccione (93), Rimini (91) and Bellaria-Igea Marina (87).
52.2% of tourists are looking for an overnight stay in July, 41.7% in August and only 6.1% of them are interested in traveling in September. Travelers prefer to leave on weekends (Saturday, mainly) and July weekends are the most popular – much more than the holiday week of Ferragosto. The average length of stay is not low (5.6 nights), but this is a misleading figure, as it is only the average; in actuality, tourists interested in the Riviera Romagnola are mainly divided into two types: stays of 7 nights (representing 29.9% of the total) and short holidays, from 1 to 3 nights (representing 29.6% of the total).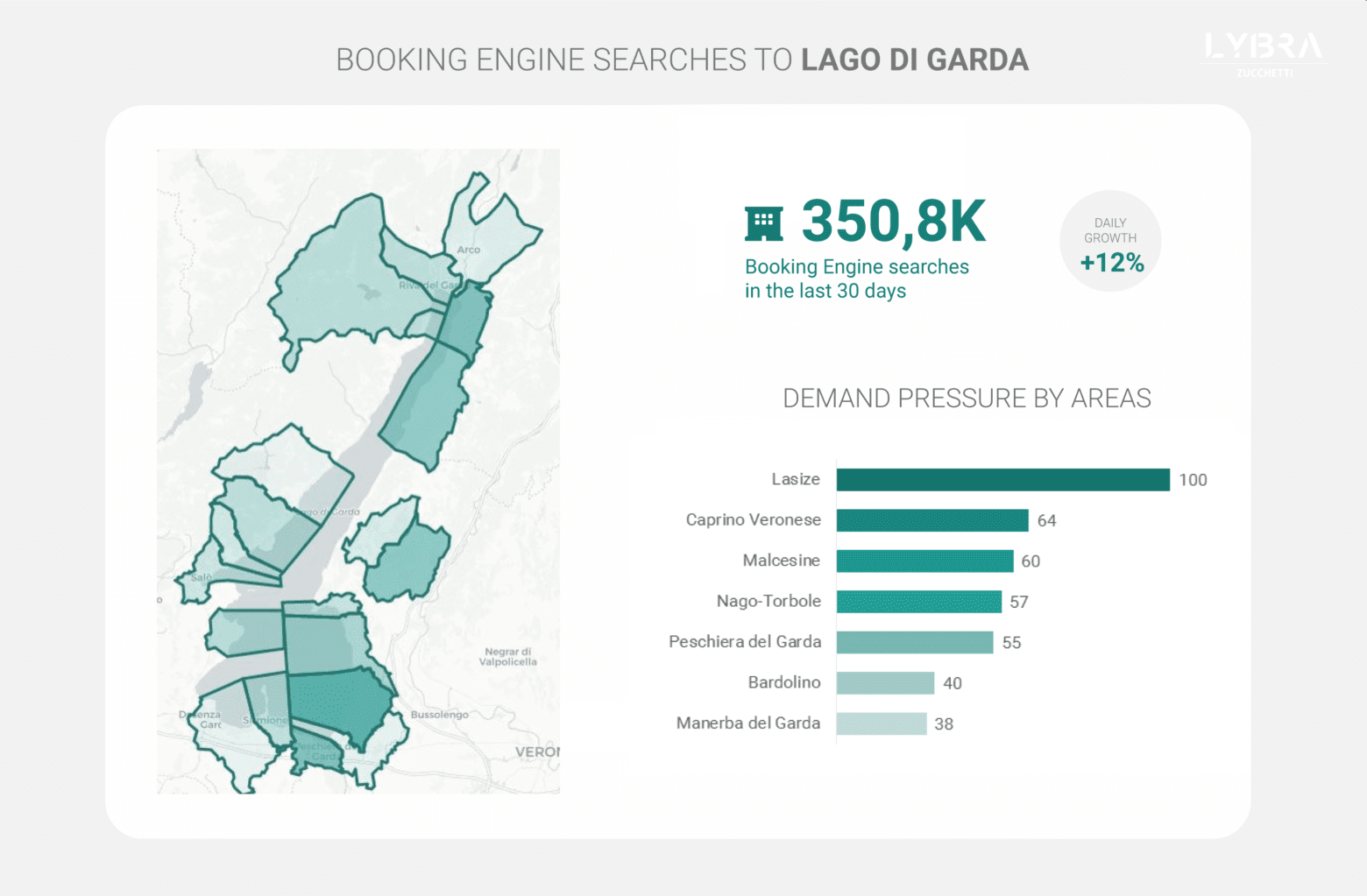 LAKE GARDA. Among the three destinations evaluated, Lake Garda seems to be the most desired destination by tourists: searches for accommodation in the last thirty days (June 18 – July 18) are about 350,800, compared to 276,500 for the Riviera Romagnola and 167,700 for the Veneto Coast. Searches are increasing at an average daily rate of 12.3%.
The most important tourist market is not the domestic one, but the German one: searches from Germany account for 41.1%, while Italians only account for 31.3% of the total. German tourists have a fairly short booking window, on average, and are concentrating mainly on the month of July; their average stay is 7.2 days, and they prefer stays of one week (33.5%) or 14 days (9.3%). Italians, on the other hand, have a much shorter stay of 3.7 nights, on average, with 30.2% of searches for stays of 1-3 nights. July is also their favourite month but, unlike foreigners, they are particularly interested in stays during the holiday week of Ferragosto.
After Germans and Italians, the tourists most interested in Lake Garda are Austrians (5.5%), Dutch (5.5%) and Swiss (4.2%).
Lasize is the area with the highest demand pressure (100); in other words, it has the highest demand, when comparing the ratio between the number of searches and the number of accommodation facilities in the region; it is followed by Caprino Veronese (64), Malcesine (60) and Nago-Torbole. Lasize is also the area with the highest number of searches (66,200 in the last thirty days), followed by Bardolino (36,100), Peschiera del Garda (34,800) and Malcesine (34,100).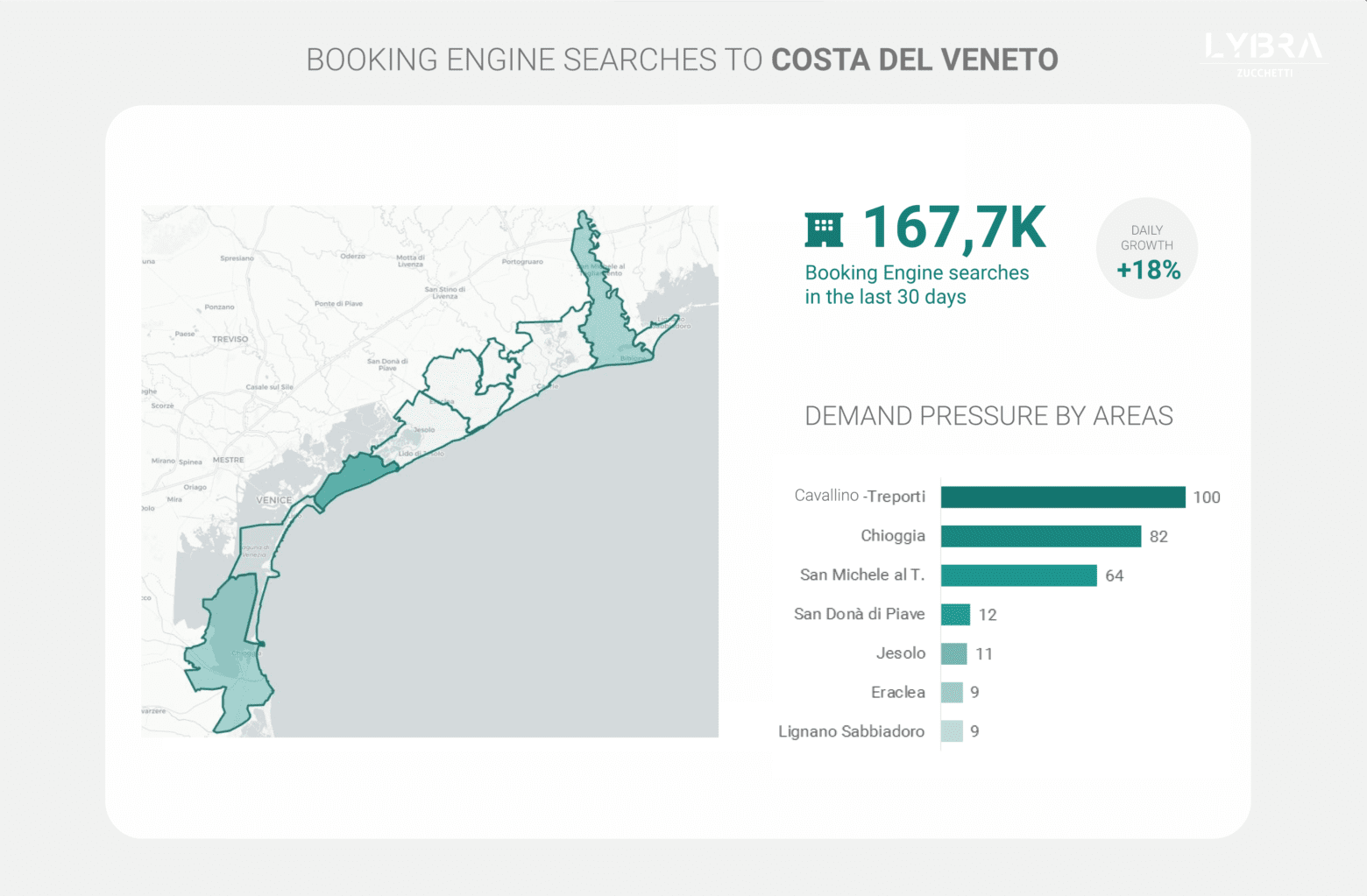 VENETO COAST. Tourists who are looking for overnight stays on the Veneto coast have very clear interest in specific destinations; 88.3% of all searches carried out in the last thirty days are concentrated in four areas: San Michele al Tagliamento, Chioggia, Cavallino-Treporti and Jesolo. All other tourist destinations have a weight of less than 5%.
There were 47,700 searches for San Michele al Tagliamento, representing 29.5% of the total. It has a very concentrated market and only three nationalities are really interested in traveling to this destination: Germans (35.3% of the total), Austrians (27.1%) and Italians (23.3%) represent the overwhelming majority of the tourist demand in the region.
Chioggia, on the other hand, has a more important domestic market, as Italian tourists account for 37.9% of the total. Apart from the Germans, in second place with 20.2% of the total, there are no other relevant markets, as they all weigh less than 5%. There were 36,600 searches in the last thirty days, accounting for 22.6% of the entire Veneto Coast.
For Cavallino-Treporti, there were 30,000 searches (18.6% of the total) with two particularly interesting markets: the German market, with 26.5%, and the Italian one, with 19.2%.
Finally, for Jesolo the most active market is domestic (29.5%), followed by Austrian (13.8%) and German (7.9%).
The choice of arrival dates changes significantly, depending on where tourists place of origin is: while Italians are very interested in August, most of the German searches are for holidays at the end of August-September, and Austrians search almost exclusively for travel in July.
There are also important differences in terms of average stay. The general average stay of Italian tourists is 5.7 nights; in fact, 43.9% of searches are for 7-night stays, while 12.3% are interested in short stays (1-3 nights). Similarly, the Austrians have an average stay of 5.3 nights, but 45.6% of searches are for 7-night stays. The Germans, on the other hand, have a much longer average stay (8.1 nights) because they prefer stays of 7 nights (39.2% of the total) or 14 nights (16.9%).
About Destination
Destination is a market intelligence project created by Lybra – developers of the most complete, machine learning, data-centric Revenue Management System (RMS) available on the market – to share real-time, region-specific statistics, information and trends in the world of tourism.
Every day, Lybra analyzes millions of datasets – data collected from thousands of hotels' PMS and flight search data from a leading metasearch booking engine – to help hoteliers "look ahead to better understand the present;" in other words, Lybra helps hoteliers understand the upcoming demand for their destination and gives them the revenue management tools and actionable insights necessary, to maximize bookings and revenue.
The aim of Destination is to give hoteliers and DMOs a more expansive view of tourism news and trends in different regions around the world. Destination produces weekly Travel Demand Reports, which share tourism developments for a specific country/region and analyze how the region's travel news has impacted tourist demand. Follow Destination on LinkedIn to gain access to the upcoming Travel Demand Reports, which are published every Tuesday.