The fluctuating health conditions, present worldwide throughout the spring travel season, brought most tourism to a standstill; however, Spanish tourist destinations are now working to ramp up tourism interest, with the aim of improving their economy from an anticipated influx of tourists this summer.
The Autonomous Community of Andalusia – a region in which tourism accounts for 13% of the area's GDP – is working especially hard to boost tourism for the summer season: according to statements made by the Minister of Tourism, Juan Marìn, the Autonomous Community has invested €3.5 million to revamp Andalusia's tourist image; the three-year project includes a new branding campaign, spokesperson – Antonio Banderas – and a new safety slogan, which communicates the region's COVID precautions, implemented to keep tourists safe.
Since September 2020, the initiative – "Los Bonos Turísticos" – designed to boost domestic travel has offered the reimbursement of part of the accommodation costs for tourists who choose to stay in Andalusia. This campaign was not a popular one with many locals, who expressed doubts about the program's efficacy, and suggested that it was a waste of public funds.
TREND. International travelers are continuing to search for flights to the region, with 2,4 million searches being done in the last 30 days (April 22-May 22); travel intentions are growing steadily, at an average daily rate of 2.3%, a slightly higher trend than the national average of 2.1%.
Geographically, flight searches are highly concentrated, as travelers are mainly interested in Malaga Airport, the main airport serving the Costa del Sol; with 1,502,000 searches, the Malaga Airport accounts for 62% of the region's total search volume. In second place, with 27% of searches, is Seville Airport, with a total of 660,000 flights searched, with the other airports in the region being of less interest to potential tourists.
Travel searches to Andalusia are mainly from the domestic market: 695,000 Spaniards want to travel to the region (29.4% of the total), a slightly lower share than the national average of 33.4%. Spaniards are particularly interested in flights to Granada Airport (62%) and Jerez de la Frontera Airport (61%). Searches for Malaga Airport are predominantly from foreign travelers, as Spaniards represent only 19%.
FOREIGN MARKETS. Among the most active foreign markets, the English market emerged unexpectedly, with 300,000 searches (12.6%), in second place after the domestic market. After Spain was classified as an Amber country under the UK's traffic light system, it was expected that travelers would be discouraged to travel to the country; in actual fact, the English interest in travel to Spain remains very high compared to the previous month, with a decrease of only 1.3%. It should also be noted that British interest in Andalusia has remained stable, despite the recent news that restrictions for British tourists on non-essential travel to Spain have been lifted. The British are mainly searching for flights to Malaga (253,000 searches), at an average daily growth rate of 4.2%, and Seville (35,000 searches) at a rate of 2.1%.
The third most active market – after the domestic market and the UK – is France, with French tourists making 262,000 searches (11.1%). Although the French government currently advises against traveling to Spain for non-essential reasons, flight searches are increasing at an average daily rate of 1.5% and are almost all concentrated on Malaga (143,000) and Seville (109,000).
There is also strong interest in travel to Spain from the German market: after months of restrictive COVID policies, German travelers made 215,000 searches in the last thirty days (9.1% of the total), with an average daily growth rate of 4.1%. Again, searches are heavily concentrated on Malaga (150,000) and Seville (40,000) but, unlike the other markets, the German market is growing the most: the average daily growth rate is 12.5% for Granada Airport, 4.6% for Malaga Airport and 4.3% for Jerez Airport.
THE MOST POPULAR TRAVEL DATES. The average booking window is still very short; most travelers are looking for flights arriving within the month of May or, at the latest, the first week of June.
58% of the trips searched for by the French are for the month of May, decreasing for June (19%) and July (12%).
Germans are also mainly interested in flights departing in May (45%), also decreasing in June (27%) and July (15%).
British searches, on the other hand, are more consistent throughout the summer tourist season: 28% of flight searches were for May, 26% were for June and 20% were for July.
The Spanish also have a short booking window: 43% of them are looking for flights in May, 30% in June and 15% in July.
Overall, searches for the month of August are still very low and, in most cases, has a share of less than 10%; however, Italians are very interested in travel in August, with 18% of total searches, with a peak between August 7 and 13.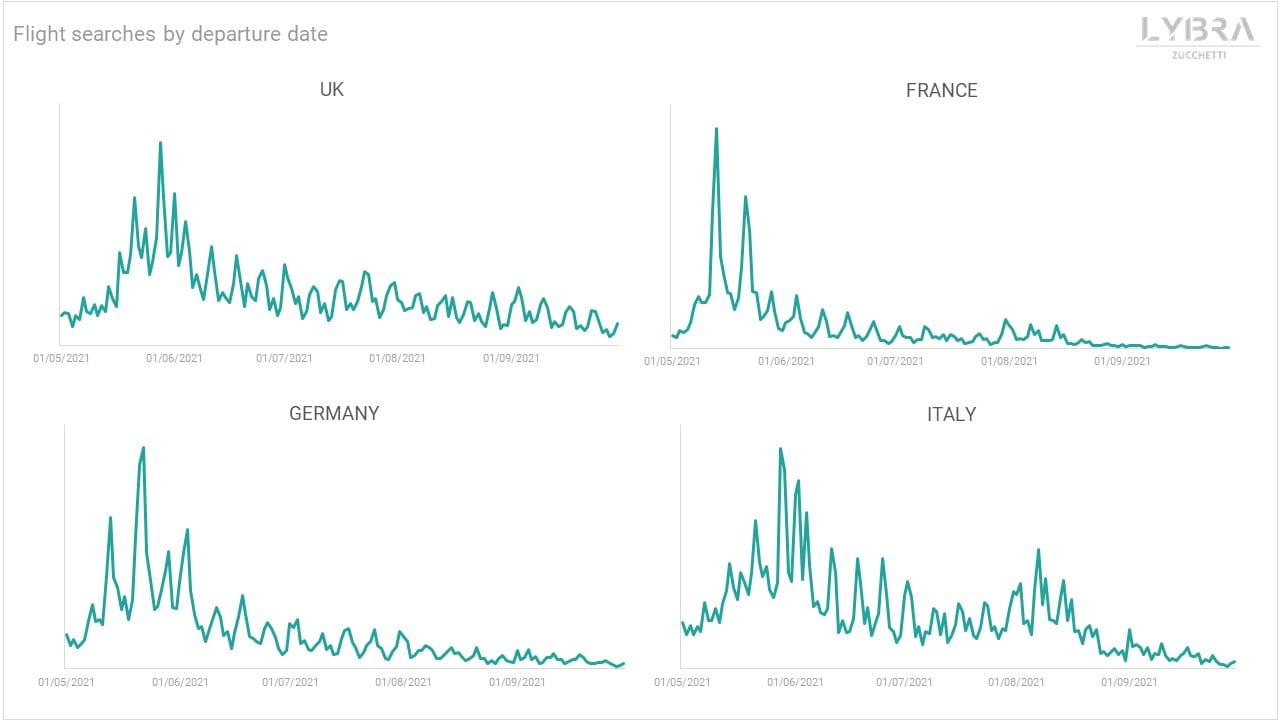 About Destination
Destination is a market intelligence project created by Lybra – developers of the most complete, machine learning, data-centric Revenue Management System (RMS) available on the market – to share real-time, region-specific statistics, information and trends in the world of tourism. 
Every day, Lybra analyzes millions of datasets – data collected from thousands of hotels' PMS and flight search data from a leading metasearch booking engine – to help hoteliers "look ahead to better understand the present;" in other words, Lybra helps hoteliers understand the upcoming demand for their destination and gives them the revenue management tools and actionable insights necessary, to maximize bookings and revenue. 
The aim of Destination is to give hoteliers and DMOs a more expansive view of tourism news and trends in different regions around the world. Destination produces weekly Travel Demand Reports, which share tourism developments for a specific country/region and analyze how the region's travel news has impacted tourist demand. Follow Destination on LinkedIn to gain access to the upcoming Travel Demand Reports, which are published every Tuesday.