By now it seems almost as if someone is enjoying giving us a hard time: European tourism is at the mercy of a sea that is still rough and despite the good results of the summer season, everyone is looking with concern at the black clouds on the horizon.
The Ukrainian crisis has caught us off guard, too focused as we were on analysing the latest pandemic wave. But even if the outbreak of war didn't have such an obvious direct impact, the indirect impacts will surely be more damaging. The tensions in Ukraine certainly haven't stopped inbound tourism and haven't even negatively affected flows in the summer months; but everything else (rising costs, inflation, insecurity) will undoubtedly have an impact on the desire and possibility to travel.
The coming months will be crucial in determining the reaction of tourists and estimating the real impact that this delicate situation will have on tourism. For this reason, we at Lybra are constantly analysing the performance of European countries in order to intercept all market feedback.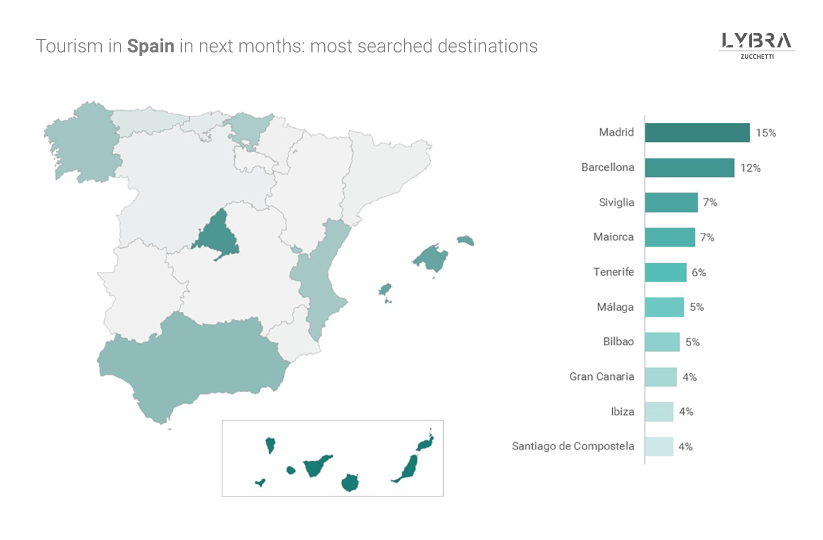 SPAIN HOLDS UP
What emerges from our analysis, focused at forecast data about travel intentions, is that tourists have not had negative reactions. The chart on the cover, for example, shows travel demand over the last two years in terms of total searches for Spanish airports from January to October. You can immediately see that there was a slowdown in demand between July and August, similarly to what happened the previous year. On the other hand, as far as September and October are concerned, the growth rate of demand decreased, but only slightly. It went from an average daily +1.01% in 2021 to +0.52% in 2022.
The same, if not very similar, situation is repeated for Italy and Greece. During September-October 2022, demand for Italy grew at a rate of +0.3%; slightly less than it did in 2021 (i.e. +0.6%). Likewise for Greece, where demand last year was down for -0.3% and this year for -0.4%.
These are variations that are too small to define "changes". Nothing is changing yet. Starting from this data it would not be possible to claim that there has been a brake in tourism, even if we are aware of the tensions dominating economy dynamics at the moment. Actually tourists do not seem to be frightened by the increase in costs, nor by the phenomenon of inflation: for now (maintaining a certain caution due to the particularity of the situation) tourists are reacting in a rather static way: demand is not growing but it is certainly not collapsing; on the contrary, it is very close to last year's trends.