TREND. After the false start of the Easter holidays, which brought to a halt what seemed to be a recovery in Spanish tourism, searches for flights to Spain have started to grow again. During the last two weeks (April 10-24) the trend has become positive again, with an average daily rate of 1.5%, with 22% more searches than in the previous two weeks.
With its 6 million searches, Spain continues to be one of the most desired destinations by travelers: in the world ranking, it is in second place after the United States (7.3 million); followed by Russia (5.8 million), Italy (3.2 million) and the United Kingdom (2.9 million); that being said, unlike a few weeks ago, Spain is not the country with the best performance. Every day, Spain receives, on average, 2900 more searches (+1.5% in relative terms), while Russia grows by 6700 searches per day (+3.9%), Greece by 3300 searches (+2.4%), and Brazil by 3200 searches (+2.7%).
SUMMER MONTHS. The improvement in the health situation has certainly had a positive effect on travelers' sense of confidence, but not enough to return to a booking window at pre-pandemic levels; 61% of searches are for flights arriving by May 31, with an average booking window of 18 days. The most searched month is May (35% of searches), followed by April (26%); from the daily distribution of searches by date of arrival, it is clear that travelers feel insecurity about planning trips too far in advance and, as a result, have a strong tendency to last-minute travel planning. The market is active – especially the foreign one – but travelers are still insecure about the future; searches for the summer months remain dynamic throughout June and July, then weaken significantly in August, before plummeting in September.
Based on the search data, travelers are looking for flights to Spain primarily during the next month; in particular, the period from May 12-16 is the most popular (388,700 searches), as well as the period from May 19-24 (330,000 searches). Generally, the preferred departure day is Friday, but for trips in June and July users prefer to leave on Wednesday or Thursday.
MARKETS. 32% of all searches come from the domestic market; the primary foreign markets are represented by Italians (11%), Germans (10%) and British (9%) users.
The majority of users (70.6%) are looking for flights for a single person; couples represent 21.0%, and families (7.2%) and groups of more than six people (1.2%) represent the remainder of the flight searches to Spain.
ITALIANS. Italy is the foreign market most interested in travel to Spain, Italian users made 668.7 thousand searches in the last two weeks; that being said, the number of searches are growing very little, with only 0.2% average daily increase. Like travelers from other countries, May is the preferred month of arrival (33.0%) for Italians; however, the travel window is very concentrated as they are looking for flights either for the month of May or for the first weeks of August. For Italians, July, the end of August and September have a low volume of searches.
The most searched period is May 26-June 1 (40,700 searches) and the weekend of May 20-23 (29,500 searches); in August, the most searched period is from August 6-11, with 37,500 searches.
Like the other prominent countries, Italians are searching for flights for singles primarily (76%), while couples represent 16%. Interestingly, the share of couples searching for flights to Spain increases in July (18%) and August (21%). Families represent 6% of the total share of searches, but they too seem to prefer July (9%) and August (10%).
GERMANS. With the second most searches for flights to Spain – not far behind the Italians – are the Germans; after the abrupt interruption due to the implementation of more strict travel restrictions, Germans has restarted searching for flights to Spain, making 586,000 searches in the last two weeks, with an average daily growth rate of 3.3%. While the German market does seem to be more active, German users are only looking for short-term travel because of the bad experiences caused by the Easter restrictions.79% of searches are for flights within two months; May accounts for 47% of the total, while June accounts for 9%, July for 6% and August for 4%. Currently, German flight searches have a very short booking window, as they have demonstrated a lack of interest in travel during the summer months: after May 22, the number of searches collapses and the daily average goes from 11,000 to.
In line with the general trend from other countries, 71% of searches are made by singles, 19% by couples, 9% by families, and the remaining 1% by groups.
BRITISH. The British also stopped searching due to the recent tightening of restrictions; however, their interest has returned with 439,000 flight searches for travel to Spain, in the last 14 days, with a positive trend – albeit less than that of the Germans, as British travelers only had an average daily increase of 1.5% (vs. 3.3%+ in Germany during the same period).
With regard to departure dates, the British have a rather homogeneous distribution. Surely the closure to foreign travels for touristic reasons influenced the data: only 15% of searches are for travels before the end of April, while 27% of searches are for May. In particular, there are peaks of interest only in the two weeks after May 17 (the planned date of re-opening international travel from the UK): 27,200 British people are searching for flights to Spain for the weekend of May 27-30. For now, the interest for the following months is contained but constant: 16% of flights are for June, 16% for July, 14% for August and 12% for September.
71% of British people search for flights for a single person, but the share drops significantly for the middle months: the share of single users is 82% in May, and it drops to 57% in August; on the other hand, the share of couples and families increases: couples represent 13% of users for flights arriving in May, and 22% of users for flights arriving in August, whereas families have a 4% share in May, increasing to 18% for flights arriving in August.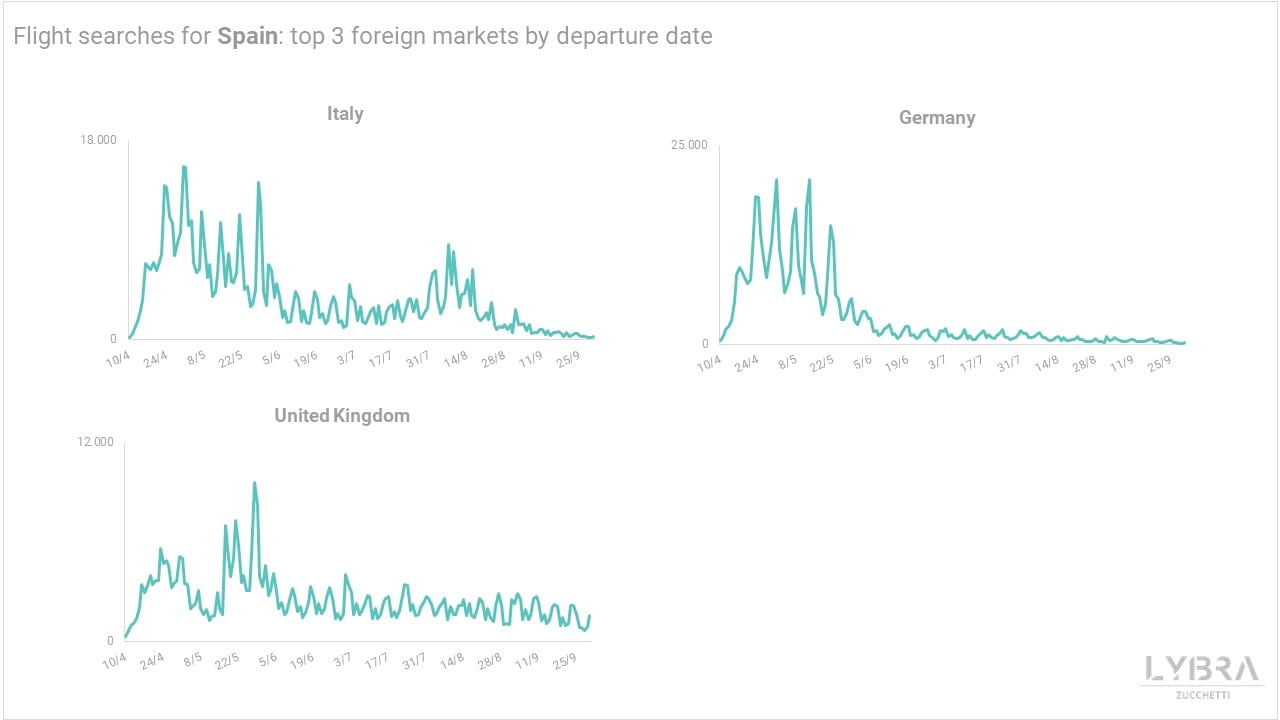 About Destination
Destination is a market intelligence project created by Lybra – developers of the most complete, machine learning, data-centric Revenue Management System (RMS) available on the market – to share real-time, region-specific statistics, information and trends in the world of tourism. 
Every day, Lybra analyzes millions of datasets – data collected from thousands of hotels' PMS and flight search data from a leading metasearch booking engine – to help hoteliers "look ahead to better understand the present;" in other words, Lybra helps hoteliers understand the upcoming demand for their destination and gives them the revenue management tools and actionable insights necessary, to maximize bookings and revenue. 
The aim of Destination is to give hoteliers and DMOs a more expansive view of tourism news and trends in different regions around the world. Destination produces weekly Travel Demand Reports, which share tourism developments for a specific country/region and analyze how the region's travel news has impacted tourist demand. Follow Destination on LinkedIn to gain access to the upcoming Travel Demand Reports, which are published every Tuesday.