In planning for 2021, many hoteliers (like you!) are trying to identify ways to get back to pre-COVID revenues, because of the light at the end of the tunnel; however, that isn't the best strategy today, due to the ongoing depressed demand that all global markets are still experiencing. Instead, hoteliers should be focusing on preserving business, by capturing as much of the existing demand as possible using out-of-the-box revenue management strategies to price your rooms more competitively.
So, how can you capture as many bookings as possible, even if there is very limited demand in your destination?
Register for Lybra's upcoming DemoDay – a free webinar taking place on January 27 at 4pm CET/10am EST – which will give you the answer to that question, PLUS actionable insights so you can optimize your revenue management strategy for 2021.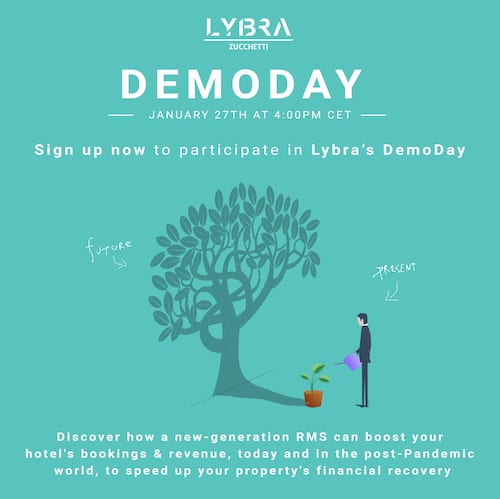 During the DemoDay event, Erik Muñoz & Fulvio Giannetti will be discussing the future of revenue management, and demonstrating how Lybra's Assistant – a demand-centric, next-generation RMS – can help your property recover more quickly, today, tomorrow & post-COVID.
???? WHEN: January 27, 2021 at 4pm CET/10am EST

???? WHERE: Streaming live on the LinkedIn event page & YouTube

Capture as much of the demand coming to your destination as possible, by embracing #TomorrowsLogic to optimize your revenue management strategy, and increase your property's bookings and revenue, no matter how the ongoing pandemic affects demand.
Follow Lybra in this space or on LinkedIn for more information about how to improve your property's revenue management and pricing using future data, to capture as much of the (limited) demand in your destination during the ongoing pandemic. 
To find out more about Lybra's DemoDay or the Assistant RMS, please contact Lorenzo Magnarelli, Chief Customer Success Officer, at [email protected].