Spring has just begun and summer is already upon us, but when would foreign tourists be likely to leave? What are the most active nationalities and what destinations would they like to reach?
In this article, we will talk about the foreign market with a specific focus on the four, most desired by foreign travellers, Spanish destinations.
Demand for each destination has different characteristics. However, all destinations are tied by a very clear common thread: by observing worldwide flight search data we can see clearly that foreign travel demand is related to national holidays of each country. For example, the British are looking for flights to Spain especially for June 2, a festive weekend related to the celebrations of the Platinum Jubilee of Queen Elizabeth; this trend is observed also for Italians, for whom June 2 is a national holiday. For what regards Germans, they are looking for flights on religious holidays.
Barcelona
Most foreing tourists planning to visit Barcelona are looking for flights in may: if we consider the period from May 1st to July 31st, flight searches for May represent 53.8% of the total. The ones for June account for 34.5%, while demand for July is still low (11.6%). Tourists that are most interested in traveling to Spain come from the UK, Italy, Germany and the Netherlands followed by France and Ireland.
Depending on nationalities, the most desired departure dates change significantly: thanks to the British, for example, there is a strong demand for June 2 holiday: most of them are looking for flights on June 1 while some of them prefer to anticipate to May 28. Other periods with a strong demand for Spain are May 19-20 and June 10 for Lunes de Pascua Granada.
Italians also, because of their national holiday, look for flights on June 1 but, unlike the British, are also very interested in traveling during the first weekends of may and they prefer departing on fridays, especially on May 6 and 13.
Germans, on the other hand, are interested in traveling to Barcelona especially on May 26, a national holiday in Germany, as well as on June 2.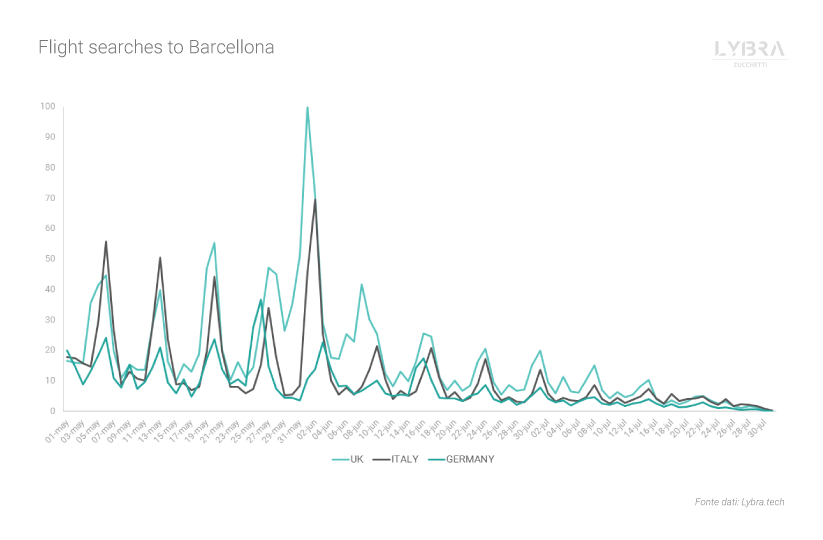 Majorca
Travel demand for Majorca is less concentrated: May is always the most popular month for tourists (44.8%) but there is also significant demand for June (38.3%) while for July, even in this case, search trends decline (16.9%).
The most active foreign market, in this case, is the German one followed by the English, the Italian and the French ones. The travel demand of Germans for Majorca is concentrated on 3 dates that are related to religious national or regional holidays: these dates are May 26, June 3 and June 16.
The British instead show a very concentrated demand: they are searching for flights to Majorca in a specific time frame going from May 27 to June 3. Flight searches for weeks of May and for all the summer period are instead very few.
Italians' travel demand is even more concentrated: most of them are searching for flights only for June 2.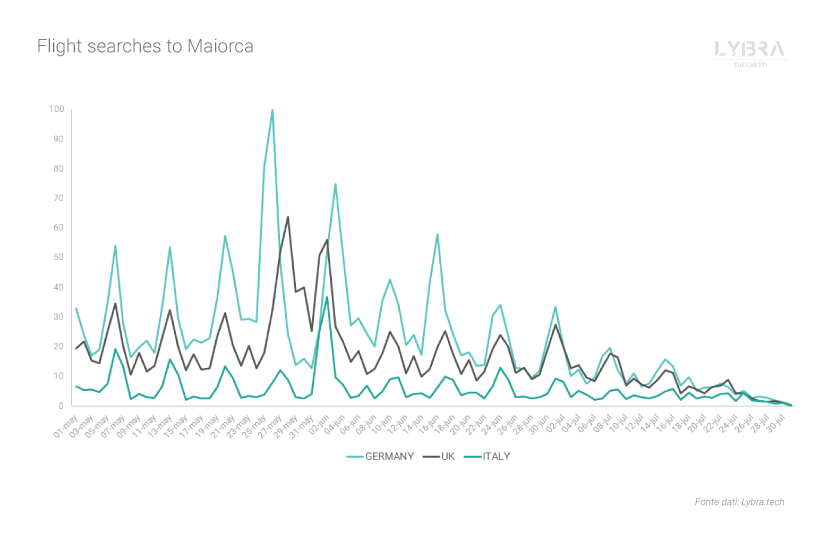 Málaga
Foreign tourists showing a travel demand for Màlaga are mostly English: flights searches in the UK account for 43,3% of the total. The English one is the reference market for the Andalusian city: the historical bond between the British and the Costa del Sol is well known but no other Spanish destination is so concentrated on a single market. In this case, also the most popular flight searches are the ones for May 27-28 or June 1-2 but, unlike for other destinations, we see a consistent demand for summer weekends also, especially the one of July 1.
Interest for June 2 on behalf of Italians and May 26 on behalf of Italians, Germans and French are also noteworthy.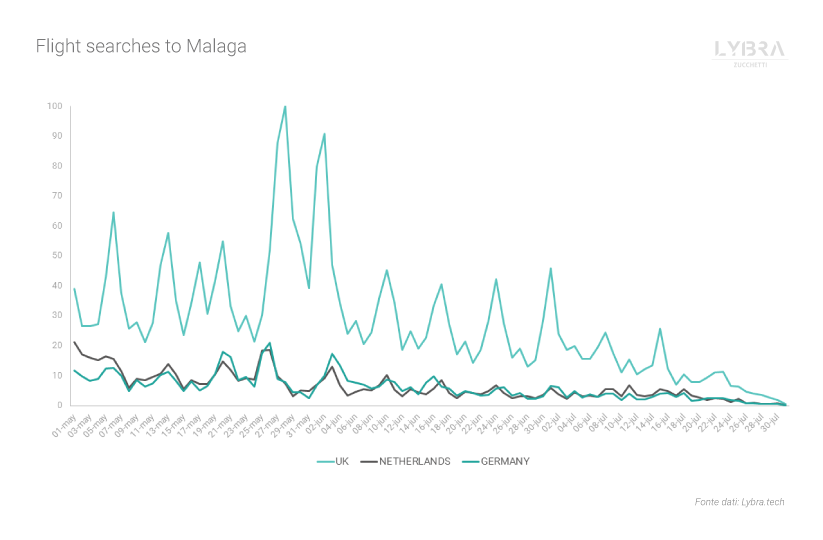 Madrid
Flight searches for Madrid are also concentrated on May (57,8% of total) while demand for June and July is still low. In this case the period with higher demand is not June 2 but the first weekend of May: in the last 30 days (March 5 – April 4) more than 57 thousand searches for flights on May 6 have been performed.
In this case, foreign travel demand is much more homogeneous and the more active markets are the following: Italy (24.6% of the total), United Kingdom (20.1%), Germany (11.2%), and France (9.7%). The Italians are looking for flights especially on June 2 and on the first weekends of May while for the English the preferred dates are, again, May 27 and June 2. We also highlight a substantial interest for July 5-6.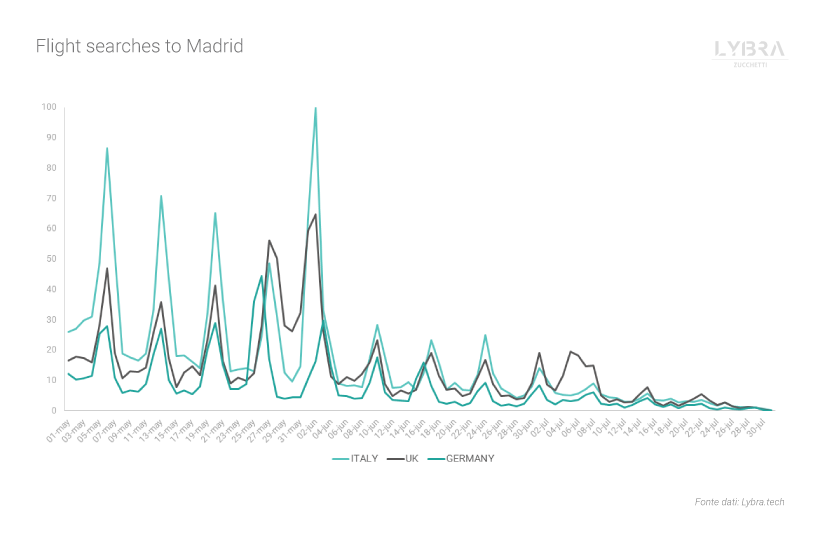 About Destination
Destination is a market intelligence project created by Lybra – developers of the most complete, machine learning, data-centric Revenue Management System (RMS) available on the market – to share real-time, region-specific statistics, information and trends in the world of tourism.
Every day, Lybra analyzes millions of datasets – data collected from thousands of hotels' PMS and flight search data from a leading metasearch booking engine – to help hoteliers "look ahead to better understand the present;" in other words, Lybra helps hoteliers understand the upcoming demand for their destination and gives them the revenue management tools and actionable insights necessary, to maximize bookings and revenue.
The aim of Destination is to give hoteliers and DMOs a more expansive view of tourism news and trends in different regions around the world. Destination produces weekly Travel Demand Reports, which share tourism developments for a specific country/region and analyze how the region's travel news has impacted tourist demand. Follow Destination on LinkedIn to gain access to the upcoming Travel Demand Reports, which are published every Tuesday.