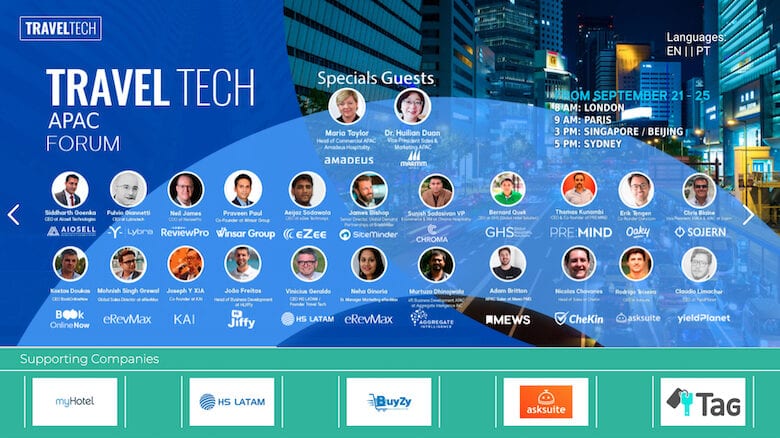 Rome, Italy – September 16, 2020 – Lybra – developer of the Assistant, the most advanced, machine learning, demand-centric revenue management system (RMS) available on the market, and HS LATAM – developer of state-of-the-art online distribution and competitor analysis solutions – is proud to announce the upcoming Travel Tech APAC Online Conference, taking place September 21-25, 2020. The Travel Tech APAC conference will feature expert speakers from top travel technology companies, including Lybra, Amadeus, SiteMinder, ReviewPro, eRevMax and many others.
The Travel Tech APAC conference was created to bring focus to the importance of operational technology to support hotels' success – especially in a down market, as we are currently experiencing, due to the ongoing COVID-19 pandemic. The conferences were designed to bring together international travel technology companies and hoteliers from around the world for online networking opportunities. Finally, the Travel Tech APAC conference aims to create a forum for discussion and sharing of expertise from top travel technology experts to hoteliers, who are struggling to survive the effects of the ongoing Coronavirus pandemic.
"There are benefits for hotels in investing in operational technology today, to establish a strong foundation for a better financial future," said Vinicius Geraldo, CEO of HS LATAM and Founder of Travel Tech. "Today, hoteliers are facing brand-new, never-before-seen market conditions and all types of operational technologies – be it revenue management, property management, channel management, rate shopping, etc. – are must-haves for hotels to maintain a competitive advantage today and into the future, no matter how the pandemic affects demand."
"Because demand is at an all-time low, revenue management is an especially challenging part of operations for hoteliers who aren't using technology to make pricing decisions," said Fulvio Giannetti, CEO of Lybra and one of the expert speakers on Day 1 of the conference, which focuses on optimizing revenue. "Even for hoteliers already using an RMS, the unprecedented lack of demand makes all historical data useless and, unfortunately, the majority of traditional RMS rely predominantly on historical data to predict room rates. That means that traditional revenue management strategies and technologies have become obsolete and so, hoteliers need to prepare for the challenging, highly competitive 'new normal' of the post-pandemic travel industry."
The conference is organized with one panel presentation on a specific topic, each day of the conference. Sessions include:
SEPTEMBER 21, 2020: New Tools & Trends for Hotel Revenue & Distribution Optimization
SEPTEMBER 22, 2020: Tech Trends + Innovations for Hotels – The Future of Travel & the Role of Technology
SEPTEMBER 23, 2020: Online Sales Trends for the Coming Years – Hotel Marketing
SEPTEMBER 24, 2020: Automation vs. Human Touch: The Impact on Operations & Customer Experience
SEPTEMBER 25, 2020: Digital Marketing Trends to Increase Revenue & Reservations
Full details and registration links for each session are available on the Travel Tech APAC website: traveltech.space/en/forum-apac/.
All hotels and/or travel technology companies are invited to attend the Travel Tech APAC Online Conference, from September 21-25, 2020, to learn more about the benefits of investing in technology now, to establish a foundation for a stronger financial future. Register today at TravelTech.space, as spots are limited.  
To learn more about the upcoming Travel Tech APAC conference, to obtain a media pass or for an interview with the event organizers – Lybra and HS LATAM, please contact Jennifer Nagy at any time: [email protected] or +1.786.420.1160.
Lybra will support and sponsor HS LATAM in organizing other regional Travel Tech conferences in the coming months, including Travel Tech LATAM from October 19-23, 2020, and Travel Tech EMEA on November 23, 2020. To find out more about these conferences, please contact Vinicius Geraldo, CEO of HS LATAM and Founder of Travel Tech, at [email protected].
###
About Travel Tech
The Travel Tech series of online conferences will bring together companies with national and international renown in the hospitality, travel and tourism industries to address and dissect technology-related subjects within the global hospitality industry.
Travel Tech APAC is from September 21-25, 2020. Travel Tech LATAM is from October 19-23, 2020. Travel Tech EMEA is on November 23, 2020. Find out more and register for the upcoming Travel Tech APAC at traveltech.space.