Everyone wants them and everyone is looking for them: the hunger for tourists gripping the world's major tourist destinations, exacerbated by recent war events, has sparked a hunt for the British and American tourist. This is how the tourism market looks on the threshold of the summer season: from the largest economic player to the individual hotelier, everyone is looking to these two markets with hope.
The "blame" for this doggedness is not only related to the famine of tourist flows due to Covid-19 crisis, but also to tensions between Russia and Ukraine. The war, which has now been going on for more than three months, is causing major consequences to tourism. In addition to the obvious ones, such as blocking tourist flows from Russia, there are a whole series of indirect consequences that affect (and will affect for long) world tourism.
Thus, with the closure of eastern markets and the blockade of the Russian market (and all neighbouring countries directly involved in the conflict), tourist destinations found themselves having to fill demand gaps. Demand gaps with a very important relative weight, considering that Chinese and Russians are considered high-spending tourists.
Therefore focus has (necessarily) shifted to other demand-generating centers: the eyes of tourism are all on the British and U.S. markets, which, fortunately for tourist destinations, are also on the high-spenders list.
But where do they want to go?
European tourist destinations are perhaps the ones craving the most for British and Americans and they are trying to glean as much information as possible from the market. Real-time big data helps us a lot in this: in order to understand whether tourists plan to travel and where they would like to go, we rely on airline flight search data from the leading international flight metasearch.
British and Americans, in the last thirty days have made more than 106 million flight searches; 25 million of them in the last week alone (May 22-28). Regarding volumes, the two markets are definitely at a very good level and undoubtedly have recovered a lot from last year's flows. However, the overall trend is not really positive; one would say rather static: it is +0.5% for the British market and -0.2% for the American market.
Due to the profound differences between the two countries, tourists' behaviour is profoundly different when it comes to travel destinations. It is not surprising, in fact, that the United States is the number one research destination for Americans, precisely because due to the country's geography, its citizens tend to travel within its borders, preferring to travel by air. The British, similarly, remain strongly attached to European destinations.
Among the most desired destinations for Americans are many long-haul ones: many European destinations, including the United Kingdom, Spain, Italy and France; but there are also India and South Korea. In first place, however, is Mexico, a favourite beach destination for Americans, who prefer flights to Cancun.
The British, on the other hand, are not searching for flights to long-haul destinations: excluding Turkey and India, the British want to travel mainly to Europe. Spain, Italy and France are at the top in number of searches, followed by Greece, Portugal and finally Germany. Spain, with 15 million searches in the last 30 days, is by far the most popular destination for Brits. In particular, the Brits' favourite destination is Costa del Sol (28% of the total), with Málaga ranking first in number of searches. This strong preference for southern Spain is very significant, considering that in the last two years the Canary Islands and the Balearic Islands dominated. Of particular note, demand for Seville is growing strongly, with an average daily trend of +5.2% over the past 30 days. Malaga (+2.1%), Mallorca (+2.0%) and Tenerife (+1.8%) are also growing.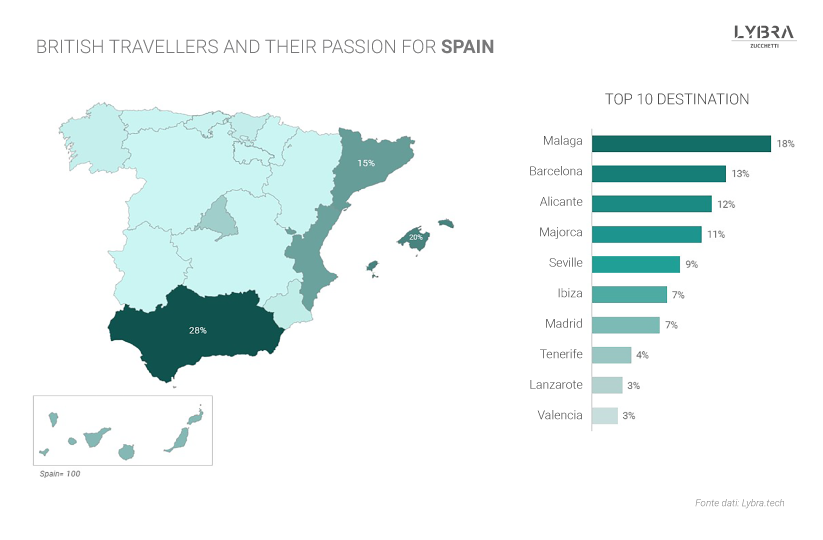 About Destination
Destination is a market intelligence project created by Lybra – developers of the most complete, machine learning, data-centric Revenue Management System (RMS) available on the market – to share real-time, region-specific statistics, information and trends in the world of tourism.
Every day, Lybra analyzes millions of datasets – data collected from thousands of hotels' PMS and flight search data from a leading metasearch booking engine – to help hoteliers "look ahead to better understand the present;" in other words, Lybra helps hoteliers understand the upcoming demand for their destination and gives them the revenue management tools and actionable insights necessary, to maximize bookings and revenue.
The aim of Destination is to give hoteliers and DMOs a more expansive view of tourism news and trends in different regions around the world. Destination produces weekly Travel Demand Reports, which share tourism developments for a specific country/region and analyze how the region's travel news has impacted tourist demand. Follow Destination on LinkedIn to gain access to the upcoming Travel Demand Reports, which are published every Tuesday.